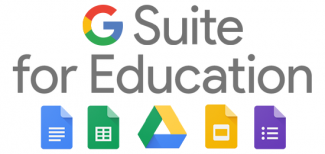 What is a G Suite for Education Staff Account?
A G Suite for Education staff account allows you to access and share files within a secure collaboration platform built by Google and managed by the School District. A G Suite account allows collaboration between staff and students through the suite of Google productivity tools. These tools are accessible from any device that has access to the internet.
How do I reset my Password?
For staff seeking to reset their G Suite password, please follow this link: https://www.sd61.bc.ca/staff-support-portal/gafe-password-change/
Where do I find more information about using G Suite with my students?
Please visit our Technology for Learning site for resources that will help you use G Suite tools in your classroom.
I have a personal Google Account. Can I use it, instead of a district managed account?
Personal Google accounts have several limitations compared to district managed ones. Many of the available resources shared by other district users can only be accessed with a district account. Furthermore, in order to use platforms like Google Classroom with students a district managed account is required.
I have never had a district managed G Suite account. How do I request one?
To request an SD61 G Suite account please review the privacy information and acceptable use guidelines outlined in the steps below. Then click the link in Step 4 to make your request. A GVSD username and password are required for a district-managed G Suite account.
Step 1 – Learn More about GVSD G Suite
Step 2 – Understand Privacy
Step 3 – Agree to acceptable use Guidelines
Step 4 – Request a G Suite Account
More Information
Please visit www.sd61.bc.ca/gsuite  for more information about G Suite for Education at SD61.