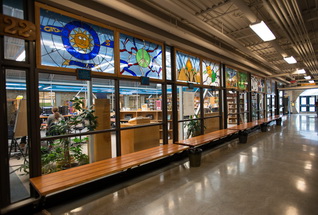 Facility Rentals is now located at 491 Cecelia Road
"REMINDER: All rentals are cancelled until further notice with the exception of childcare.
The Facility Rentals Department of the Board of Education of School District No. 61 (Greater Victoria) is responsible for administering the rental of school facilities to internal and external clients. All requests to book facilities or grounds of schools must go through the Facility Rentals Department. School staff is not permitted to make arrangements with rental groups, either internal or external, without informing the Facility Rentals Department and following the facility rentals process.
Due to safety concerns, nut and nut products, shellfish and latex (e.g. balloons) are common allergens and pose a significant health risk to students and community members. Permit holders are requested to refrain from bringing these materials into District facilities.
It's the law…
The use of alcohol and tobacco or smokeless tobacco products is not permitted in or on any School District property including private vehicles on school property. Breach of this requirement will be grounds for the School District to cancel the group's access to District property.
Booking Information
Schools and District users receive first priority on booking facilities and grounds. Users are then accommodated in the following order: community and joint-use agreements, other non-profit community groups/agencies and then commercial enterprises, fundraisers and private sector companies.
In June schools plan their programs for the upcoming school year. During July and August school programs are entered into the Rentals database. Commencing in August the Rentals Department begins to process permits for the community. The months of September, December and June will be limited for community rentals due to the number of School related activities.
Upon receipt of a completed Rental Application, the Facility Rentals Department will confirm that the booking time requested does not conflict with any District, School or other rental bookings or with any site maintenance. If the rental request does conflict with other events at the site, the Facility Rentals Department will contact you with information on other options.
Once availability of the space has been confirmed, the Facility Rentals Department will prepare a permit and will phone you when the contract is ready.