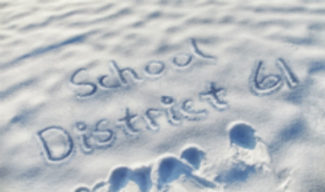 Inclement Weather Notifications
During an emergency, inclement weather, power outage or similar incident, it is a priority to communicate effectively to parents, students and community partners. We work closely with local municipalities and emergency services to gather accurate information about road conditions and safety considerations.
We will work quickly to determine impacts to school so parents can adjust plans accordingly in the early morning hours. We try to determine school closures due to inclement weather by 6:30 am. If schools are closed, an alert will appear on this website.
Greater Victoria School District Website
Our website www.sd61.bc.ca should be used as the primary point of contact for accurate updates about inclement weather or emergencies. An alert system is utilized on the front page of the website to draw your attention to the most pertinent information. Please use this website as your official source of information and current status.
Social Media
Updates will also be posted on the Greater Victoria School District social media pages. Help us share updates by sharing posts with your friends and followers on Twitter, Facebook and Instagram.
Twitter: @sd61schools
Facebook:  Greater Victoria School District
Instagram: @sd61schools 
Local media
To reach as many people as possible – as quickly as possible – we work closely with our local media to share information. Listen to local radio stations and follow local news outlets online to also get information about the impact of severe weather on schools.
Phone
Some schools subscribe to an automated messaging system, which leaves a message for the parents of the school. It generates an automated message that updates you on the current situation. You may have heard it before regarding student absences, or an incident at your school.
Student Safety is a Shared Responsibility
Student safety is our first priority and a shared responsibility.  The Greater Victoria Region is large and we understand that some areas may be more difficult to travel than others. It's a parent's decision if you choose to keep your child home due to road conditions. Please call the school and let them know if your child is staying home. The decision to attend school is the responsibility of each family.