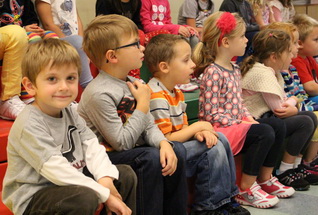 Kindergarten
Welcome to Kindergarten! The Greater Victoria School District offers full-day Kindergarten programs in every elementary school. Kindergarten establishes a strong foundation for lifelong learning, as teachers provide dynamic, play-based opportunities to help each child grow and learn. Our child-centered programs develop a sense of well-being and belonging and offer opportunities for exploring, creative play, developing language and literacy, and focusing on social responsibility and diversity.
Kindergarten provides our young learners with an enriched learning experience at their own unique developmental level. We look forward to working with each Kindergarten child's family as we welcome you to your child's new school community.  Here are some tips for supporting children as they begin their Kindergarten experience. To learn more about BC Kindergarten programs:
Kindergarten Registration Information:
Welcome to Welcome To School_Program 2017  is on January 18th, 2017 at S.J. Willis School. All parents are welcome! See what Kindergarten will be like for your child and receive registration information.
Regular Kindergarten Registration:  January 23 – 27, 2017 at your catchment area school between 8:00 am – 3:00 pm.  Registration will be processed according to the time of registration.
To request an out-of-catchment school within the District, register at your catchment school and complete a Kindergarten Transfer Application form.
Parents who already have an older child enrolled in one of our elementary schools in September 2017 and wish to have their younger child enrolled in the same school can register their Kindergarten child at that school rather than the catchment area school. They do not fill out a Student Transfer Application form.
Parents who are considering registering in Early French Immersion Kindergarten need to see the dates and times for information sessions and registration below.
To register for both English and French Immersion Kindergarten, please bring:
Proof of your child's age and citizenship status. This can be a birth certificate, passport, landed immigrant authorization. Parents of children who are not Canadian Citizens or Landed Immigrants or do not have a birth certificate for their child are required to contact our International Student Program at (ph.) 250-592-6871 prior to registration.
Proof of your address. This can be your driver's license, a utility bill with your current postal code, etc.
Your child's BC Medical Care Card.
Early French Immersion Registration:
Schools of Choice Registration:
Cloverdale Traditional School – please contact the school directly.
South Park Family School – please contact the school directly.
Kindergarten Transfer Process
Parents who wish to have their Kindergarten child attend a school other than their catchment school are given a Kindergarten Transfer Application form at their catchment school during Kindergarten Registration Week, January 23 – 27, 2017.
Parents submit the application form to the Board office by January 30, 2017, 4:00 pm.
At the end of Kindergarten Registration Week, the District reviews the enrollment numbers of in-catchment students at each school and identifies schools that have space available for out-of-catchment students. Transfer applications are then approved or denied.
When transfers are denied, the requested school creates a wait list that is based on the number on the registration form. The wait list order is determined by the number on the registration form from your catchment school.
Schools manage their own wait lists. When space becomes available, the schools contact the next student on their wait list.
Kindergarten families are informed in writing of transfer approvals or denials prior to the end of February.
If parents wish to apply for a Kindergarten transfer after the Kindergarten Registration week, they can do so during the K-12
Student Transfer Application Week, February 16 to 24, 2017.