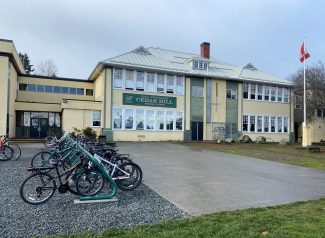 The Greater Victoria School District is in the early stages of planning for a new school for Cedar Hill Middle and is asking the school community and neighbourhood to be involved in the design process. The current school has an H-1 seismic ranking, the highest level of priority need and needs to be replaced.
In July 2021, the Province announced $42.9 million for a low-carbon, seismic replacement for Cedar Hill Middle. The District will contribute another $3.6 million, bringing the project total to $46.5 million.
The new building, serving 575 students, will be designed and constructed to reduce greenhouse gas emissions and exceed LEED Gold Equivalent design, with more efficient heat pumps, and displacement ventilation in classrooms. These temperature and air systems will use renewable BC Hydro energy to minimize the use of natural gas and other fossil fuels.
The new school will set a new standard for sustainability in the District while providing facilities tailored to the needs of modern-day learning and student and staff well-being. It will also include a neighbourhood learning centre for additional community programming space.
The school community and broader public will be asked for input at three stages of design. The District hosted an online information session to discuss the scope of the project, public engagement, timelines and potential use and design features for consideration on November 9, 2021. An online survey was launched following the information session. To review "What We Heard" through Phase One of public engagement, please review the Visioning Report below.
The District is continuing to consult through Spring 2022. An open house took place Thursday, March 3, 2022, to gather input on specific site plans and accessibility. The next open house is Wednesday, June 29, 2022, from 6:00 – 8:00 p.m. and will focus on design plans.
The new school is expected to be completed by Summer 2025. The current school will remain open until the new school is constructed.
Engagement Timeline/Project Schedule
Public Information Session #1 – November 9, 2021
Survey Open – November 9–23, 2021
On-going Engagement with School Community – November to February 2022
"What We Heard" Summary Report to the Board – December 2021
Public Open House #2 – March 3, 2022
Public Open House #3 – June 28, 2022
Summary Engagement Report to the Board – Fall 2022
Board Approves School Design – Fall 2022
Application for Building Permit – Fall 2022
Board and Ministry Approval of Detailed Design – Fall 2022
Tender Phase – March 2023
Construction Starts – May 2023
School Completion – Expected Spring 2025*
Student & Staff Move-in – Expected Summer 2025*
Online Information Session
To review the PowerPoint presentation, click here.
Survey
*This survey closed at 4 p.m. on November 23, 2021
Additional Resources
Media Release – Planning begins for new seismically safe Cedar Hill Middle School
Presentation – Public Information Session #1
"What We Heard" Visioning Report – December 2021
Media Release – Open House next week to plan for Cedar Hill Middle Replacement School
Display Boards – Public Open House – March 3, 2022
Cedar Hill Middle School – School Design Backgrounder – June 24, 2022
Media Release – Unveiling of design plans for brand new, seismically safe Cedar Hill Middle School
Display Boards – Public Open House – June 29, 2022
"What We Heard" Public Open House #2 – October 2022
"What We Heard" Public Open House #3 – October 2022