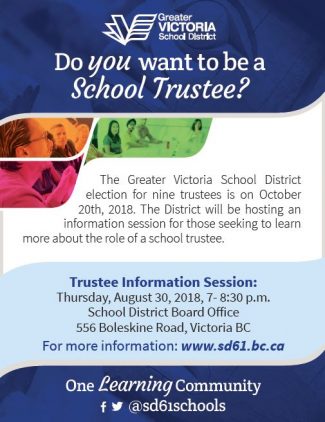 The Greater Victoria School District election for nine trustees is on October 20th, 2018. For those seeking a seat on the Board of Education, the District is hosting an information evening.
The information session will provide individuals considering to run for election as a school trustee with background information about the role of a trustee. It will outline the work of the Board of Education, routine responsibilities for trustees and provide an overview of the School District. More insights about the election process will also be shared.
The evening will also provide an opportunity to ask questions and meet our Senior Leadership team.
INFORMATION SESSION:
Thursday, August 30, 2018, 7-8:30 p.m.
School District Board Office
556 Boleskine Road, Victoria BC
Information Session Presentation
For more information on qualifications for office, submitting nominations and nomination packages, please click here.