Removing and Re-Adding GVSD Webmail on iPhone
If you are having trouble connecting to Webmail, or have been instructed by IT for Learning to remove and re-add your email credentials follow the visual instructions, or view the video below (no sound). If this is your first time adding GVSD email skip steps 3 and 4, or watch this video (no sound).
Visual Instructions
Tap the Settings App on your home screen (can be located anywhere).
Scroll down to Passwords & Accounts, tap it.
Tap on the account associated with your district email.
Tap Delete Account at the bottom of the screen.
Still in the Passwords & Accounts settings tap Add Account.
Tap Microsoft Exchange.
Enter your GVSD email credentials and tap Next to verify. When verification is complete select the services you want to use with the account (ex. Calendars, Mail, Reminders, Contacts).
NOTE: If the setup does not work the first time, try restarting the iPhone (by holding the sleep/wake button on the right-hand side until the Power Off slider appears) after removing the account.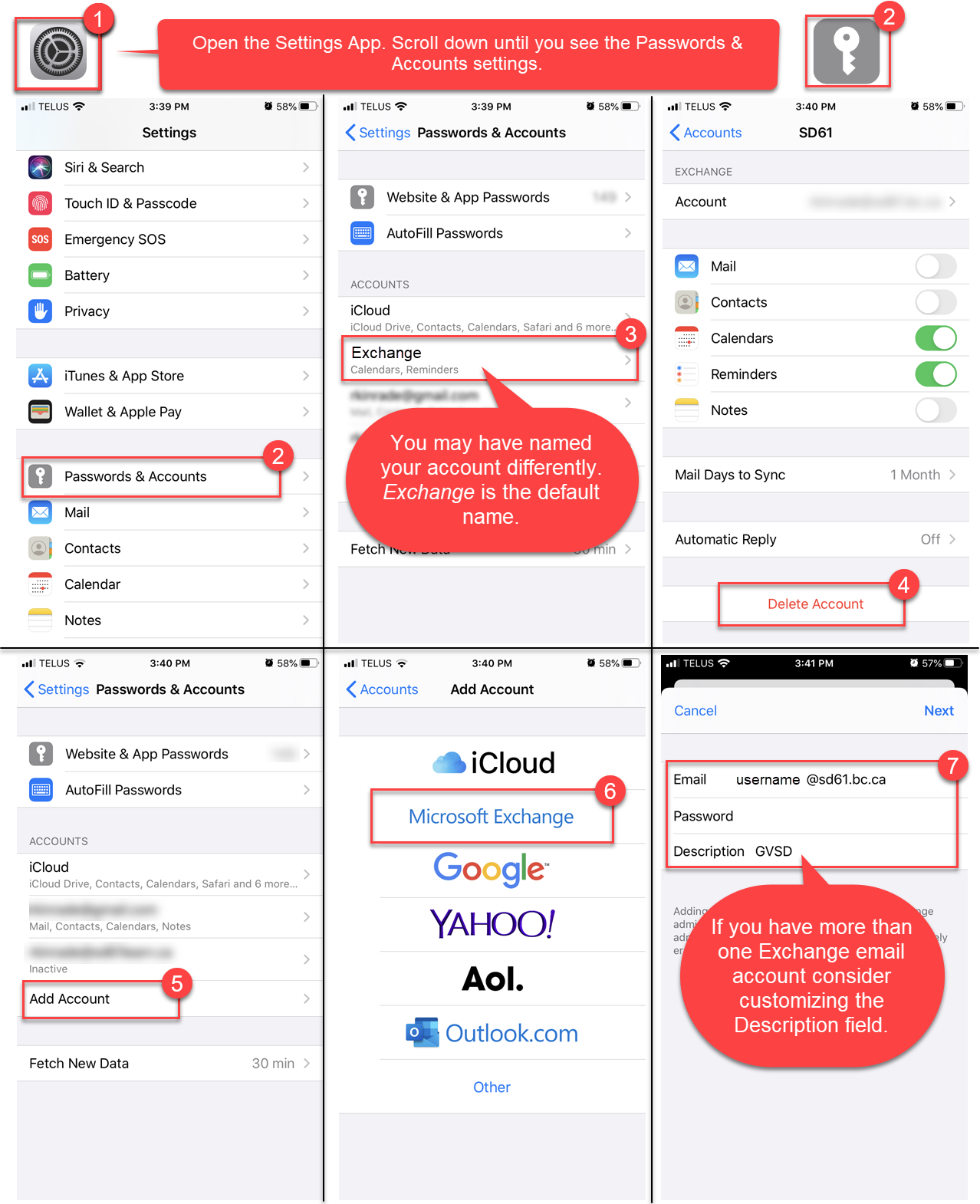 Video Instructions
Adding/Removing Accounts for Android
These are basic instructions that will vary depend on your device's manufacturer. If you are adding the account for the first time ignore steps 3 and 4.
Open your device's Settings App.
Tap Accounts (or Users & accounts)
Tap on your GVSD email Account (the name will vary depending on how you set it up.)
Locate the option to remove the account and tap it.
At the bottom of the Accounts screen tap Add account.
Select Exchange/Microsoft Exchange as your email type.
Add your GVSD email credentials and verify them.