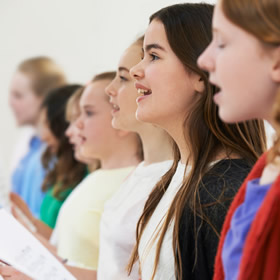 Hours 2016-17:
Fridays 12 – 4 p.m.
Most other days 3 – 5 p.m.
Location:
In the basement of S.J. Willis Secondary School, 923 Topaz Ave., Victoria.
Cooper Smith Music Library Collection
The Cooper Smith Music Library Collection (CSMLC) holds over 9,000 sets of choral works, vocal and instrumental jazz charts, musicals, string orchestra selections, and pedagogical resources for ukulele, recorder, general music at all levels, conducting, music theory, world music, and music history. It houses a large inventory of string instruments available for rent, two pianos, a computer work station, a synthesizer and a recording studio. It is a district library system, which saves money and advances both the implementation of comprehensive music programs taught by music specialists in the city's schools, and by extension, the broader musical life of the community.
Teachers and other Staff in SD61 may access additional information and search for Titles in the CSMLC under the "Staff" tab in the menu at the top of the page.
Persons wishing a guided tour of the library or additional information should e-mail:csmlcrequest@sd61.bc.ca and place the words "guided tour" or "additional information" in the subject line.