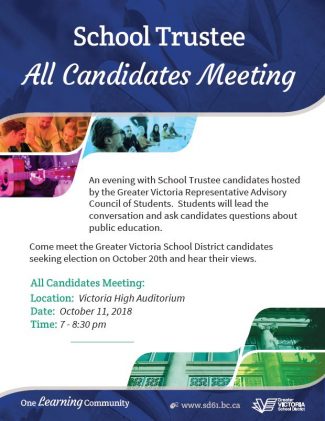 An SD61 Trustee All Candidates Meeting will take place on Thursday, October 11, 2018, at Victoria High School.
The Greater Victoria Representative Advisory Council of Students will be hosting the event. The students will lead the conversation and ask candidates questions about public education.
We encourage members of the community to come and meet the candidates seeking election on October 20th and to hear their views.
All Candidates Meeting:
Location: Victoria High School Auditorium
Date: October 11, 2018
Time: 7:00 – 8:30 p.m.
For more information on the candidates running in School District No. 61, please visit "Meet the Candidates".