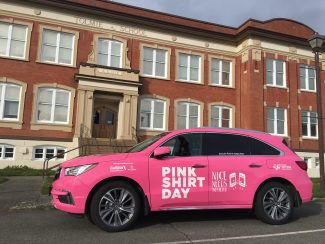 All schools across the Greater Victoria School District have received pink post-it notes to share messages of kindness, empathy and inclusion with one another in support of Pink Shirt Day.  Staff and students are also encouraged to wear pink tomorrow for the annual anti-bullying event.
"We all have an important role to play in putting an end to bullying," shared Board Chair Edith Loring-Kuhanga. "Pink Shirt Day highlights the importance of treating one another with kindness and respect. It also provides an opportunity for our staff and students to celebrate diversity and generate more dialogue on how we can continue to build stronger and safer learning communities for all of our students".
Each school will celebrate with various activities and events, including special assemblies, kindness and cookie campaigns.
The focus of this year's Pink Shirt Day campaign is cyberbullying. The slogan is "Nice needs no filter". Everyone is encouraged to share a post online and include the hashtag #PinkItForward. Each time the hashtag is used, Coast Capital Savings will donate one dollar towards bullying prevention programs for youth in BC.
For more information on Pink Shirt Day visit: www.pinkshirtday.ca