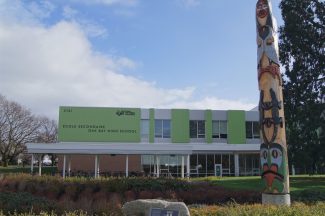 Oak Bay High School achieves LEED Gold Certification
Oak Bay High School is being recognized for its Leadership in Energy and Environmental Design (LEED). The Canada Green Building Council has given the school a mark of excellence for sustainable construction.
From design to construction, the architects, contractor, Facilities department and administration, collaborated to ensure environmentally responsible building practices and materials were used. The $50 million school project was completed in 2015 and has been lowering energy consumption by an estimated 51% in comparison to a typical school building of its size.
"We are very excited as this is the first LEED gold certified school in our District," shared Superintendent Piet Langstraat. "It demonstrates our commitment to creating the best learning environments for our students and staff while working towards building a sustainable future."
LEED certification is awarded on a credit-based system, allowing projects to earn points for environmentally friendly actions taken to conserve resources, improve energy efficiencies, reduce greenhouse gas emissions and promote healthy and sustainable buildings.
"We have put forth a great effort to receive these LEED credits and are very proud of this achievement," noted Board Chair Edith Loring-Kuhanga. "We considered all measures to reduce our environmental footprint and chose best practices that would align with our environmental policy".
Highlights of Oak Bay High's sustainable commitment include:
Introducing a hot water heat pump for heating and cooling
Installing high-performance Direct Digital Control (DDC) and lighting control systems
Maximizing natural lighting through architectural design
Using high-performance windows and a building envelope
Including LED lighting fixtures
Reducing water consumption with low flow toilets, urinals, and sink fixtures
Creating a stormwater retention system to reduce flooding and erosion at Bowker Creek and to  reduce the release of contaminants into Bowker Creek
Utilizing durable components such as concrete, medium density fibreboard, metal siding and masonry
Using low emitting material such as low volatile organic compound (VOC) paints, natural flooring materials and low VOC composite wood materials
Including use of materials with a high recycled content such as concrete and structural steel
Providing eight parking spots with electric chargers
Providing covered bicycle parking spaces and access to shower facilities for cyclists
Recycling and diverting approximately 92% of construction and demolition waste from landfill
For additional details please review the Oak Bay High Green Fact Sheet.
A plaque marking the School District's achievement has been placed in the school's front entrance.