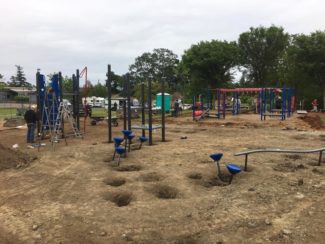 Ten years of community fundraising and planning will come to life with the installation of a new playground at École Marigold Elementary on Saturday, June 3rd.
Funds have been raised by Marigold families, community members and through the generous support of many local businesses.  In addition, the École Marigold Elementary Parent Advisory Council is very grateful for a $15,000 contribution from the Ministry of Transportation and Infrastructure to mitigate some of the lost land as part of the McKenzie Interchange construction.
The new playground will be a welcome fixture in the community, used by families in the neighbourhood with children of all ages, community groups, and before and after school care providers. The new playground was designed with input from students, teachers, parents, and neighbours.  The playground, which includes features such as climbers, balance beams and track riders, was designed to inspire and enthrall children of a wide range of ages and to meet varying levels of accessibility.
Achievement of this playground project is truly an example of a community coming together for children.  Marigold looks forward to celebrating this accomplishment with a "Celebration of Play" School Assembly and then an event open to the community, a "Night to Play" grand opening which will be held Thursday, June 15 from 5:30 to 8:00 pm.