Due to COVID-19 restrictions, Victoria High School's YCI GSA initiated a collaborative digital art project to celebrate Pride. The Rainbow Art project invited students from other schools to submit images to create a mosaic of collaborations to be featured on a Pride flag.
The GSA uses the Pride flag with the black and brown stripes to honour the role of Black and Brown LGBTQ+ folks who started the movement we now know as Pride. The stripes also highlight the particular challenges of Queer, Trans and Two-Spirit People of Colour.
Here is the result: 42 students from 14 different schools in the Greater Victoria area.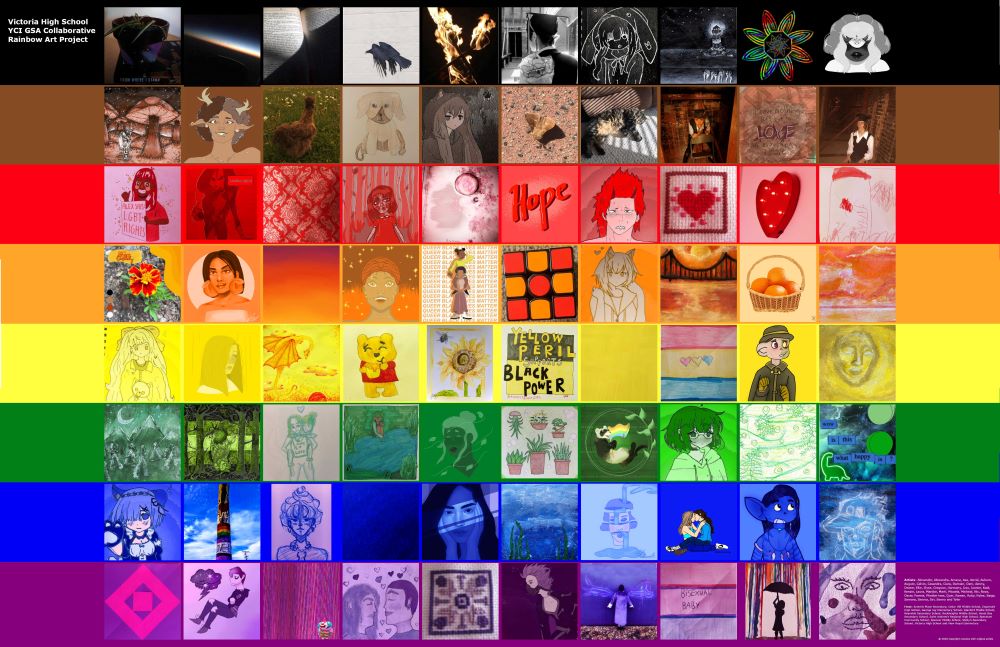 Artists: Alexander, Alexandra, Amaya, Asa, Astrid, Auburn, August, Calvin, Casandra, Ciara, Damian, Dani, danny, Dexter, Ellie, Elyse, Grayson, Harmony, Izzy, Justice, Kadi, Kenzie, Laura, Marijke, Martí, Micaela, Micheal, Nic, Nova, Oscar, Parmis, Pheobe-tess, Quin, Rowan, Ruby, Rylee, Saige, Samara, Sienna, Siri, Sonny and Tyler
Schools represented: Artemis Place Secondary, Cedar Hill Middle School, Esquimalt High School, George Jay Elementary School, Glanford Middle School, Reynolds Secondary School, Rockheights Middle School, Royal Bay Secondary School, Saint Andrew's Regional High School, Spectrum Community School, Spencer Middle School, Stelly's Secondary School, Victoria High School and View Royal Elementary