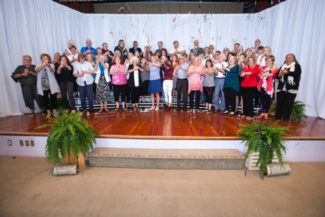 2017 Retirement Tea Celebration
107 employees will retire from the Greater Victoria School District this 2016-2017 school year, and yesterday they were celebrated for their many years of public service.  Over 2,744 years of knowledge, care and pride were celebrated in a lovely ceremony held at the SJ Willis gymnasium.  On average each person had contributed over 25 years of service to the Greater Victoria School District.
The Greater Victoria School District gives thanks to the many people who made this lovely celebration possible.  The organization was impeccable, led by emcee Colin Roberts, with planning and event management by Jill Merrett and Sylvia Holinaty, as well as Marnice Jones and Lisa Mcphail. Many commented that SJ Willis was almost unrecognizable in its setup and sparkle, which was also made possible by custodian Charles Detheridge.  We give thanks to our many local suppliers who helped make this day special:. Thank you to Truffles Inspired Catering, Ellie Matheson Photography, IdeaSource Online Recognition and Rewards, Poppies Floral Art and Decorate Victoria.