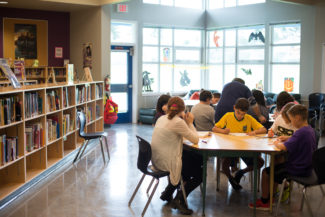 Have Your Say
Enrolment projections indicate that the Greater Victoria School District could see an increase of 2,000 students over the next 10 years. This means that some schools will be limited by space and unable to accommodate all of the students who wish to attend a specific school.
Student enrolment priorities determine the order in which students will get into a school when space is limited. These priorities have not been reviewed in many years and it is important that the priorities are widely understood and reflect the community's input.
The Greater Victoria School District is seeking input from parents as part of a review of the current priorities and the overall registration and transfer process.  It's important we hear from as many as possible across our District.
Survey
We Respect Your Privacy
We do not require your personal information for the purposes of this survey using SurveyMonkey. Your responses to the survey questions will not be attributed back to you individually; they will only be reported back in aggregate with the other responses received. When completing the survey please do not provide your name or address, or any other personal information that could identify you or other individuals. The  Personal information submitted will be treated as though the School District has received your consent to disclose it to the Board of Education, staff and the public. Please note that SurveyMonkey servers are hosted outside of Canada. If you have questions about the survey, you can contact community@sd61.bc.ca  
Student Enrolment Priorities Survey.
The results of this process will help ensure a transparent and fair process for student registration at all grade levels including French Immersion, and requests to transfer to a non-catchment school.  This does not apply to Programs of Choice in secondary school (e.g. Flex, Challenge, sports academies) as these programs are by application.
The survey will close Monday, April 10th 4 pm.
Next Steps
A Transfer and Registration Committee made up of staff, parents and Trustees has been established to review the current priorities, seek public input and make recommendations to the Board in May 2017.
A summary of "What We Heard" outlining the process and input collected will be available for the public, the Committee and the Board's review in May 2017.  The Committee will make recommendations to the Board of Education on May 23, 2017.