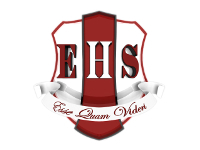 Dual Track School with Regular and French Immersion Programs
Attendance Phone: 250-382-9223
Phone: 250-382-9226
Fax: 250-361-1263
Principal: Tina Pierik
Vice Principal: Sarah Garr
Vice Principal: Vicki Roberts
Email: esquimalt@sd61.bc.ca
School News
Student Gabriella Evelyn's illustration of Beverly Mascoll is part of Esquimalt High School's Social Justice 12 class's awareness campaign about Influential Black Women of Canada... Read more
Esquimalt Leadership students believe that a school mascot would help bring our community even closer together. An overwhelming majority of students who answered our survey... Read more

The school board is looking for your input regarding sustainability at ESQ!  Tell the school district what's important to you.