Click the eServices Icon to Login.
Quick Links
Completing Timesheets | Entering Absences | Changing Availability & PIN | Changing Contact Info | Pay Statements & Employee Info
eServices Has Been Updated as of May 13, 2019. 
The eServices web application that employees use to complete their timesheets, log absences, review their pay, apply for internal jobs, etc., has changed visually; however the core functions remain the same. Employees will need to familiarize themselves with the updated locations of the tools they use regularly. 
How Do I Login to EServices?
Staff still use their username and password to login, however it is highly recommended that all staff use the desktop/laptop version of the Google Chrome browser (NOT Internet Explorer, Firefox, Safari or another Web Browser). It is possible to use eServices on mobile devices, however it may not be as easy to navigate and enter information on smaller screens.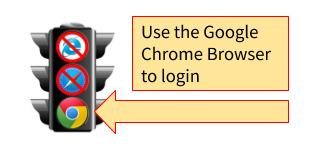 The Main Screen
The Main Screen displays the menu items to the left, instead of above. All of the options employees need to access are nested under the My Info Menu.

Completing Timesheets, Logging Absences & Changing Availability & PIN
1. Click on the My Info Menu n the left-hand side of the screen.

2. Click Time & Attendance.

3a. Completing Timesheets.

Under Time & Attendance click Enter Time. Fill in your timesheet(s).

3b. Entering Absences

Click on the Enter Absence link, second on the list of the Time & Attendance Menu. 

3c. Changing Availability &  ADS PIN

The options for changing availability and resetting your ADS PIN are under the Dispatch & Workboard link at the bottom of the Time & Attendance heading.
How Do I Change My Contact Information?
The link to change your phone number and email address are at the bottom of the My Info Menu.

Where are my Pay Statements & Employee Information?
You can review your pay statements under the Employee Statements section of the Documents & eForms heading. Your employee Information (current assignment, contact information, seniority date, etc.) are also available under Employee Information.
A printable version of this page is available here.
More Information
PowerSchool—the company that built eServices  (also known as atrieveERP)— has published detailed documentation about using the application here. 
This 5 minute video provides an overview of the updated version of the application.