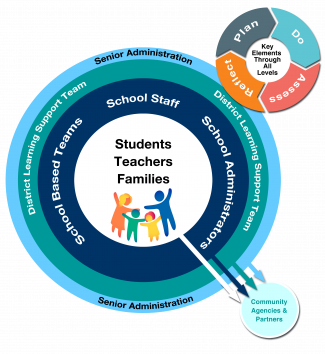 Learning Support Team
Learning Support Mission
We nurture each student's learning and well being in a safe, responsive, and inclusive learning community.
Learning Support Vision
Each student within our world-class learning community has the opportunity to fulfill their potential and pursue their passions.
Inclusive Education in School District 61 is a way of thinking and acting, grounded in a belief that with the right supports, every learner can be successful in their schools and classrooms. Inclusive schools embrace the value of our diversity and see our differences as strengths. We believe that all students have an authentic sense of belonging in their school community and will be supported to develop their full potential in the academic, social-emotional and physical domains.
Inclusion equitably supports and appropriately challenges all learners. All GVSD staff members work together to create welcoming, flexible and responsive learning opportunities that adapt to the changing needs of students. As much as possible, inclusive classrooms are places where students do not have to leave to learn; collaborative supports are brought to students in their classrooms and, as a result, benefit the full range of learners. At times, dependent on student needs, more targeted and specialized interventions are offered to individuals or smaller groups in classrooms or other inclusive learning spaces.