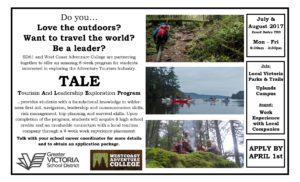 Do you…
Love the outdoors?
Want to travel the world?
Be a leader?
SD61 and West Coast Adventure College have partnered together to offer an amazing 8-week summer program for students interested in exploring the Adventure Tourism Industry. The TALE Program provides students with a foundational knowledge in wilderness first aid, navigation, leadership and communication skills, risk management, trip planning and survival skills. Upon completion of the program, students will acquire 8 high school credits and an invaluable connection with local tourism companies through a 4-week work experience placement.
The program runs from in July and August 2017 (exact dates TBD), Monday – Friday, 8:30am – 3:30pm with the following schedule:
July 2017: Local Victoria Parks & Trails, Uplands Campus
August 2017: Work Experience with Local Companies
If you are interested in applying for the TALE program or finding out more about the program, connect with your school-base career coordinator and begin filling out the TALE Application Package.