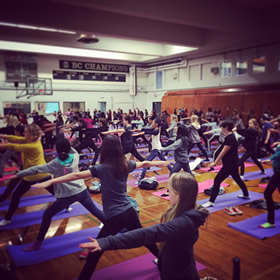 CHOICES is a one day conference for Grade 8 girls focused on increasing awareness about career pathways while connecting female youth to women in industry.
This year's CHOICES event showcased 16 different workshop sessions with opportunities in the fields of health, science, aviation, trades, policing, technology and music, recreation and animal related professions. Each student had the opportunity to choose two of the 16 workshops. The purpose of the workshops are threefold: to share the story and personal choices the facilitator has taken to arrive where they are; to share information about training that is related to the profession; and a hands on activity to introduce the girls to the nature and context of the work.
In addition to the workshops the conference offered an introduction to yoga and mindfulness, as well as hearing from a panel of female students in secondary and postsecondary programs. Lunch was prepared and served buffet style by one of the district's culinary programs. The day was capped off with keynote, Katherine Penfold, a new artist in the music industry who has a powerful message for young women.
Nearly 160 Grade 8 girls were in attendance from all ten middle schools in the Greater Victoria School District for CHOICES 2015.
Choices 2014 Video
Choices 2015 Video