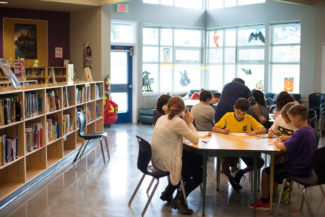 Summer School
Summer School is offered to help students get ahead in their secondary courses or obtain graduation credits.
The Greater Victoria School District offers a wide range of courses and learning opportunities for grades 9 to 12. Academic credit courses are offered for students looking to complete a course prior to the new school year. Two-week Academic completion courses are offered for students who attempted a course in the 2016-2017 year but did not receive a passing grade.
Summer School will be offered at Reynolds Secondary School this year.
Registration will occur May 10, 11, 12 from 9 a.m. to 3 p.m. at Uplands Elementary. If you're looking to apply any time after these dates you can apply at the School District Office, 556 Boleskine Road, between the hours of 9:30 a.m. and 3:30 p.m.
Summer School Registration Forms available here.
Summer School Schedule 
Credit Courses: July 4—July 27, 2017
Completion Classes July 4—July 13, 2017 (Session 1)
Completion Classes July 17—July 27, 2017 (Session 2)
Classes will take place Monday through Thursday from 8:00 a.m. to 1:30 p.m. (**please note there will be no classes July 3rd for Canada Day Holiday, but there will be a class on Friday, July 7th).
Courses Available
GRADE 10, 11 & 12 ACADEMIC CREDIT COURSES –  Reynolds Secondary School
| | | |
| --- | --- | --- |
| GRADE 10 CREDIT | GRADE 11 CREDIT | GRADE 12 CREDIT |
| ENGLISH | BIOLOGY | BIOLOGY |
| FOUNDATION/PRE CALC MATH | CHEMISTRY | CHEMISTRY |
| SCIENCE | ENGLISH | ENGLISH |
| | PHYSICS | PHYSICS |
| | PRE CALC MATH | PRE CALC MATH |
| | SOCIAL STUDIES | |
GRADE 9, 10 & 11 ACADEMIC COMPLETION COURSES – Reynolds Secondary School
Session One Completion Course Selection  –  July 3 – July 14, 2017
| | | |
| --- | --- | --- |
| GRADE 9 COMPLETION | GRADE 10 COMPLETION | GRADE 11 COMPLETION |
| ENGLISH | APPRENTICESHIP & WORKPLACE  MATH | |
| | FOUNDATION OF MATH/PRE-CALCULUS | |
| | SCIENCE | |
| | ENGLISH | |

Session Two Completion Course Selection  –  July 17 – 27, 2017
| | | |
| --- | --- | --- |
| GRADE 9 COMPLETION | GRADE 10 COMPLETION | GRADE 11 COMPLETION |
| MATH | | APPRENTICESHIP & WORKPLACE  MATH |
| | | ENGLISH |
| | | FOUNDATION OF MATH/PRE-CALCULUS |
| | | FOUNDATION OF MATH |
Summer School Fees
SUMMER SCHOOL 2017 FEE STRUCTURE
Program Type
School Age Any District
S.D. #61 International
All Other International
Graduated School Age
Adult Non-Grad
Graduated Adult
 
d.o.b. after 01-July-1998
d.o.b. before  01-July-1998
Total Fee
$20
$250  or $500
$375 or $750
$20
$20
$500
Course
Any course

*if taking two completion course total fee remains at $20

$250 per completion course

$500 any credit course

$375 per completion course

$750 any credit course

Refundable
No
No
No
No
No
No