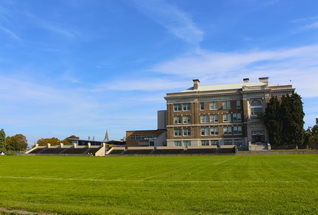 FIELD RENTALS
Fields are available during daylight hours only after 6:00 pm Monday to Friday and any time on Saturday and Sunday.  There is a two hour minimum booking for ALL field rentals.
New and Returning Clients – For field bookings between July 1 – November 30 please submit your Field Rental Application Form by May 15 and for field bookings between March 1 to June 30 please submit your Field Rental Application Form by December 15.
Returning Clients – Every attempt will be made to rebook returning clients at the same field and time slot each year unless a District program requires the space.
All school playing fields are closed to community users during the months of December to February.  During these months when the ground is saturated or frozen, fields are easily damaged.  Fields will be assessed prior to March 1st each year to ensure they are able to sustain sports activities.
Deliver, mail, email, or fax the signed Field Rental Application Form to the Rentals Department.
Note – All groups using District facilities or fields must have a minimum of $2 million commercial general liability insurance.  Please reference the Insurance Section for more information.