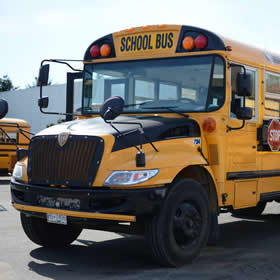 STUDENT INFORMATION:
New students to SD61, or students who have moved in catchment can still request Transportation for 2019-20.
When requesting Transportation, please provide the following in your email:
Student's Name(s)
2019-20 Attending School (please state if you are new to SD61)
Home Address
Type of service requested (regular program, special needs, BC Transit pass)
PLEASE EMAIL ALL INQUIRIES TO THE TRANSPORTATION DEPARTMENT:
REGISTRATION INFORMATION 2020-21:
The Transportation on-line application process for 2020-21 will take place in two sessions, one for each type of service:
Regular Program Bussing/BC Transit Passes for Esquimalt High:  February 17 to March 13, 2020
Special Needs Bussing/BC Transit Passes:  April 1 to 24, 2020
Registration dates for S.J. Burnside BC Transit Passes will be in September 2020
2020-21 English Catchments will be in effect when applying for all new applicants.  Students currently receiving Transportation at their catchment school will still be eligible to apply for continued service to the same school, regardless of any catchment changes for 2020-21.  However, if transitioning to middle or high school, students must be attending the 2020-21 catchment school.
ELIGIBILITY:
REGULAR TRANSPORTATION
Students must be attending their English catchment school
Students must live beyond the School District walk limits:

4 km for elementary school
4.8 km for middle and high schools
SPECIAL NEEDS TRANSPORTATION
New applicants must attend their English catchment school.
Students must be designated with an IEP detailing a permanent physical or cognitive disability that necessitates the need for transportation.
To check your English catchment school: use School Locator 
OUR GOAL IS TO PROVIDE EFFECTIVE, SAFE, EFFICIENT, AND RELIABLE TRANSPORTATION SERVICES FOR OUR STUDENTS
Transportation Calendar
Professional Development Days
Early Dismissals for Bussing
Dates for 2020-21 On-line Transportation application process