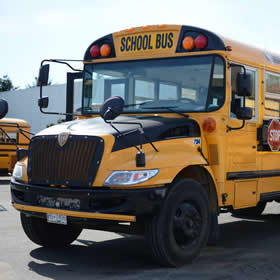 The 2019/20 On-line Transportation Registration process for both Regular Program and Inclusive Learning bussing will open on Friday, February 15, 2019, and close on Friday, March 15, 2019. 
To submit an application please click below:
Online Transportation Application
If you are new to the district and looking for bussing for the remainder of 2018-19, please inquire via email to:   transportation@sd61.bc.ca
In your email please include the following information,  in order to process your request in an efficient manner;
Student's Name
18-19 Attending School
Home Address
Type of service requested (regular or inclusive learning)
OUR GOAL IS TO PROVIDE EFFECTIVE, SAFE, EFFICIENT, AND RELIABLE TRANSPORTATION SERVICES FOR OUR STUDENTS
Eligibility
Regular Transportation
Students must be attending their catchment school.
Students must live beyond the School District walk limits:

4 km for elementary school
4.8 km for middle and high schools
Inclusive Learning Transportation
New applicants must attend their catchment school.
Students must be designated with an IEP detailing a permanent physical or cognitive disability that necessitates the need for transportation.
If you have questions, concerns, or complaints; please contact: Transportation@sd61.bc.ca