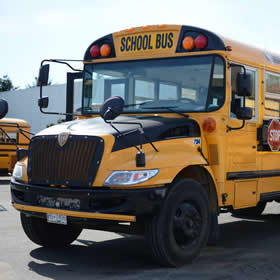 REGISTRATION INFORMATION 2022-23:
The 2022-23 Transportation application forms are no longer available for parents/staff to apply on-line. You can still apply for Transportation for the 2022-23 school year by contacting Transportation via email. Please provide your home address, student(s) name, school, and the type of service requested (regular program, special needs, or BC Transit pass). See eligibility below.
PLEASE EMAIL ALL INQUIRIES TO THE TRANSPORTATION DEPARTMENT:
FIELD TRIPS:
SD61 School staff only can book a bus for field trips using the following link, and contact Eric Fischer with any questions:
https://FieldtripBusRequest.sd61.bc.ca
SD61 buses are only available for SD61 schools/staff
If you are unsure of the g/l code requested when applying, see your school accounts clerk/admin assistant
Field Trips must take place between 9:00 am and 2:00* pm (Mon to Fri)
The two SD61 buses currently available are also servicing daily routes, so the *buses must return to the school by 2:00 pm
It is possible to have pickup for field trips after the SD61 buses have completed their daily runs
Approximate Capacity:  50 middle school and older students, or 76 smaller elementary students at 3 to a seat
Current billing rate is $60/hr in 15 minute increments (may be charged for driver waiting time)
Four electric buses have been ordered, and are expected to be in service in September 2022
ELIGIBILITY FOR NEW APPLICANTS:
REGULAR TRANSPORTATION
Students must be attending their English catchment school and;
Students must live beyond the School District walk limits:

4 km for elementary school
4.8 km for middle and high schools
Students eligible for City of Victoria free BC Transit are not eligible for SD61 BC Transit passes
SPECIAL NEEDS TRANSPORTATION
New applicants must be attending their English catchment school and;
Students must be designated with an IEP detailing a permanent physical or cognitive disability that necessitates the need for transportation.
To check your English catchment school: use School Locator 
OUR GOAL IS TO PROVIDE EFFECTIVE, SAFE, EFFICIENT, AND RELIABLE TRANSPORTATION SERVICES FOR OUR STUDENTS AT

NO COST TO FAMILIES
Transportation Calendar
Non Instructional Days
Early Dismissals for Bussing
Statutory Holidays/Winter and Spring breaks