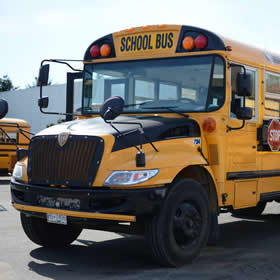 BC Transit info    Regular Program bussing info    Special Needs bussing info
Inclement weather info     GVSD-Busing-Pamphlet-Jan-2019
A link for S.J. Burnside Alternative school students only to apply for BC Transit passes will be available here from:  10:00 am Monday, October 28 to 5:00 pm Monday, November 4
New students to SD61, or students who have moved in catchment can still request Transportation for 2019-20. 
When requesting Transportation, please provide the following in your email:
Student's Name(s)
18-19 Attending School and 19-20 Attending School (please state if you are new to SD61)
Home Address
Type of service requested (regular program, special needs, BC Transit pass)
Please email all inquiries to the Transportation Department:
2020-21 On-line bussing application information:
The on-line application process for 2020-21 will take place close to Spring Break 2020, and this webpage will be updated with the details once available.
Parents, whose children currently have SD61 Transportation service, will receive an email from Transportation providing on-line application details once available.
All School Principals will receive 2020-21 on-line application details once available.
OUR GOAL IS TO PROVIDE EFFECTIVE, SAFE, EFFICIENT, AND RELIABLE TRANSPORTATION SERVICES FOR OUR STUDENTS
Eligibility
Regular Transportation
Students must be attending their English catchment school.
Students must live beyond the School District walk limits:

4 km for elementary school
4.8 km for middle and high schools
Special Needs Transportation
New applicants must attend their English catchment school.
Students must be designated with an IEP detailing a permanent physical or cognitive disability that necessitates the need for transportation.