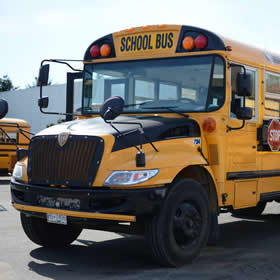 The deadline for submission of bussing applications for 2018-19 is closed.   No further applications will be approved during the summer months.
Any new requests for bussing will be processed in the order they are received.  Please send all new requests and inquiries to transportation@sd61.bc.ca.
In the email please include the following in order to process your request in an efficient manner;
Student's Name
18-19 Attending School
Home Address
Designation if applicable
Please note that there will be no busses running on September 4, and you will need to make your own arrangements to and from school for that day.
OUR GOAL IS TO PROVIDE EFFECTIVE, SAFE, EFFICIENT, AND RELIABLE TRANSPORTATION SERVICES FOR OUR STUDENTS
Eligibility
Regular Transportation
Students must be attending their catchment school and live beyond the School District walk limit.

4 km for elementary school
4.8 km for middle and high schools
Inclusive Learning Transportation
New applicants must attend their catchment school.
Students must be designated with an IEP detailing a permanent physical or cognitive disability that necessitates the need for transportation.
If you have questions, concerns, or complaints; please contact: Transportation@sd61.bc.ca