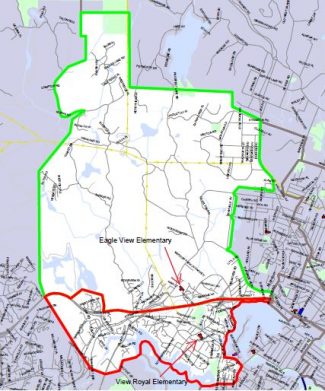 The Greater Victoria School District has commenced a review of catchment boundaries that will continue over the coming months.  We are in the early stages as we review enrolment projections and gather community-specific data in terms of growth and change.
We recognize there are some areas of View Royal where populations have increased significantly within the current elementary school catchment boundaries that were established over 10 years ago.
Superintendent Piet Langstraat hosted a meeting on Thursday, May 31, 2018 at Eagle View Elementary School to provide an update on information gathered to-date related to the View Royal catchments, and the District's considerations when reviewing catchment boundaries. It was an opportunity for the Superintendent to hear from parents about specific neighbourhood considerations as well.
To review the Superintendent's Presentation, please click here View Royal Catchment Review.
Additional Documents:
Current View Royal Catchment Boundary Map
Eagle View Elementary Catchment Map
View Royal Elementary Catchment Map
Additional information and recommendations will be going to the Board of Education in the fall. The plan is to have a decision made for the registration process starting in January 2019.