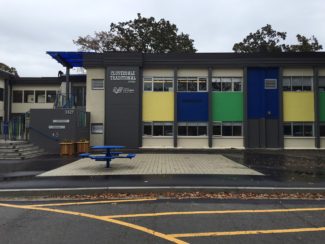 Cloverdale Traditional School is a 'school of choice' and our catchment area includes the boundaries of School District #61 Greater Victoria.
Each Traditional school is unique and particular to its community.  However, there are commonalities.  Traditional Schools are defined by their greater emphasis on the following:
the traditional values of citizenship, responsibility and respect
student uniforms
active parent involvement
educational structure
The Guiding Principles of Cloverdale Traditional School are:
Students achieve their fullest potential in a structured environment where skills and concepts are presented in a consistent and sequential manner throughout the school.
Students will strive for individual excellence and maximize their individual achievement when high standards and expectations are reinforced both at home and at school.
Behavioural expectations, clearly defined and communicated in our school code of conduct, create an environment in which students act in a respectful and responsible manner.
The goals of the school community are best met when parental involvement is expected and the PAC and school work together in a systematic, cooperative and thoughtful manner.
Cloverdale Traditional School will focus on academic excellence and consistent expectations in learning and teaching with common language and terminology.  The most current, effective and innovative teaching methods will be used to enable all our learners to reach their fullest potential.
For more information about Cloverdale Traditional School please visit the school's website.